Lovely day up in the Ravine. Certainly crowded but snow conditions were great and we timed it pretty well. We (Me, Monica, Brenda, Rider.Steve, and RobRox) stayed in Jackson Friday night and got to the Pinkham lot at 6:45 and got one of the last few spots. It filled up wicked early and they weren't allowing parking on Rt 16 near Pinkham so it saved us a lot of walking. We went in for breakfast and let things warm up a bit.
We all skinned up and headed up at a reasonable time. Soon we all stripped down to t-shirts as it was warming up quickly. The usual cluster-f on the TRT trail with lots of people, dogs, families, etc but a great atmosphere. HoJos was a zoo with lots of rangers around talking to folks about the dangers. The Inferno race course came right through HoJos and we saw the first racers come though to great applause. After the appropriate donations to the rangers we put skis on our backs for the hike to the Bowl where we ate some more and decided to head up Right Gully to the snowfields.
I had a blister problem on one heel that was quite annoying during the climb but fortunately didn't bother me on descent. Monica and I transitioned a ways above the Headwall and took our first lovely turns on the snowfields enjoying the great snow conditions. I'd never done the Headwall before (just Left Gully, Right Gully, Chute, and Hillman's) so I admit I had a bit of nervousness. Rob and Rider.Steve went up a bit higher - we'd meet up with them later in the Bowl.
The Headwall is steep. I didn't ski it great but I made some turns. The Mrs skied it great (of course) and I caught up with her in the middle of the run. We spotted Brenda who had done a different run and we stopped for a beer and some fun watching. Rob and Steve came down a couple of minutes later and we all celebrated the day. After a bit we decided we'd had enough and headed out the Sherby. There is some open water on the Little Headwall that would could have avoided better but we only carried for a few feet. Sherby was in fine shape to the parking lot.
And now the pictures:
The crowds at HoJos
Hillmans from just above HoJos
Arriving in the Bowl
Hanging on the floor of the Bowl
Climbing Right Gully
Looking across Tucks from the top of Right Gully
A lovely day in Tuckerman Ravine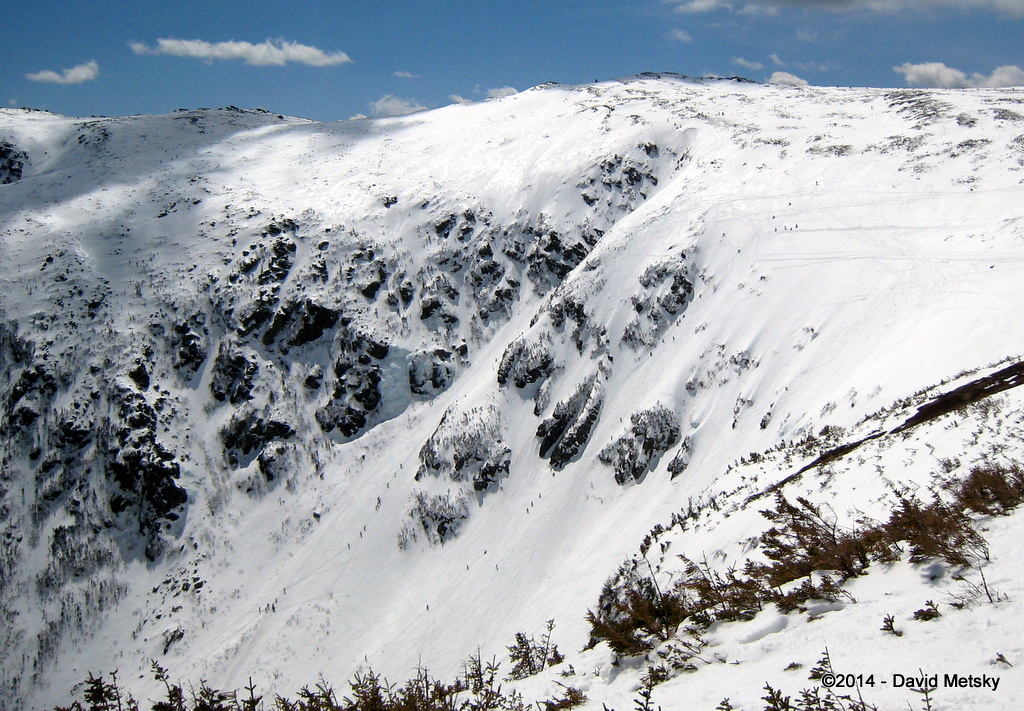 Stopping to refresh atop Right Gully
Skintrack in the snowfields
Meeting friends in the snowfields before heading down
We're skiing what?!
Me, just below the Lip
Below the Ice Fall
All smiles below the Lip
Skiing below the Boot Ladder
Conga Line
Perfect conditions
Rider.Steve finishing his run
A bit of a crowd at the edge of the Lip
Going for it
Afternoon at Left Gully
Time to say goodbye
Rider.Steve and Brenda on Little Headwall
RobRox waiting patiently below HoJos
The Gang
Note the lit cigar
Post Tucks celebration
Libations for Ullr
And, a Moose for the road